Getting there
There are a few companies around offering husky safaris in Lapland. Our expedition was run by the Harriniva Holiday Centre and we booked our holiday, including flights and transfers, through Activities Abroad. We were put in touch with Activities Abroad by Responsible Travel.
We talked along the way to the people at www.dogsledding.co.uk who were really helpful. If you're arranging flights yourself there are charter flights to Kittilä from the main UK airports during the skiing season. Outside of this, or for other destinations in Lapland, you'll probably need to go via Helsinki.
Packing
On our trip Harriniva provided us with outer thermal suits, warm boots, a selection of balaclavas and hats, wooly socks, outer mitts and a warm sleeping bag.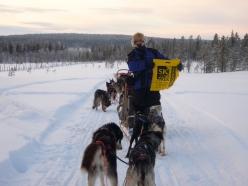 To wear beneath all this you'll want to take good thermals and a collection of lightish pullovers, wool or fleece. It's better to have lots of thinner layers than a few thick ones. It's important that layers closer to your skin wick well and don't hold perspiration against you. Fingered fleece gloves are useful beneath the mitts and for handling karabiners. Silk socks and gloves provide an excellent thermal layer against your skin. We got all our thermals from our local camping and outdoor shop,
Lockwoods
.
Apart from plenty of clothes, the other thing that is indispensable is a head torch. A thermos flask (stainless steel, not glass—it will get bumped around a lot) is useful for carrying water on the trail without it freezing.
It's difficult to prevent specs from misting up regularly at this temperature. If you wear specs consider taking contact lens instead. For some reason the liquid that daily disposables come in didn't seem to freeze, but perhaps we were just lucky.
Batteries
Battery life is much reduced at low temperatures. Take plenty of spares. If your digital camera can take lithium batteries use these rather than alkali. Lithium batteries (not to be confused with Lithium-ion rechargables) cope much better with the cold. Cameras that take 2 AA batteries can usually use a Lithium CR-V3 instead. If you use rechargeables, take fully charged spares with you—there is no where to charge batteries on the trail.
Vegetarians
Harriniva cater for vegetarians on their husky safaris, but make sure they know in advance as all the food for the trip is planned and measured in advance. Make sure you let the airline know too—if you book with flights included remind the agent to tell the airline.
We decided to be quite flexible. The growing season in this part of Lapland is about two months, so it's not a place naturally rich in vegetables. The staple foods are reindeer and fish, neither of which is intensively farmed.
If you can't cope with the idea of chopping meat for the dogs, this probably isn't the right trip for you.