We spent the last two nights back at Harriniva. We weren't all grouped together this time—Sophie and I had a small cabin, with ensuite sauna, down near the river Muonio. On Friday night there was a big celebration feast for the whole group. Unfortunately, although on the trip itself there had been a big effort to cater for our almost vegetarian diet, the message hadn't reached the hotel staff; it was a bit of meat fest. I did enjoy the pickled herring, but have a suspicion it may have played a part in some rather unpleasant moments when I got home 🙁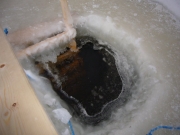 We felt at a bit of loose end on Saturday and Sunday—our flight wasn't until Sunday evening. Having finished the mushing adventure I think I was ready to go home. Sophie and I did take advantage of the jacuzzi and sauna down by the river on Saturday evening. The jacuzzi was actually a little disappointing—not particularly warm. But the sauna was great, and having tried the rolling in the snow thing earlier in the week we felt obligated to check out jumping into a hole in the ice on the river. Surprisingly, this didn't actually feel as cold as rolling in the snow. I suppose if the water is still water it can't be colder than 0°C, where as the snow could be well below that.
On Sunday we had a bit of a play on the the toboggan run, which was fun. The big inflated inner tubes were particularly exciting as you have absolutely no control over which way they are pointing and can quite easily end up coming down backwards.
After that it was a siesta in the comfy chairs in reception for me!