After a hearty breakfast at Hariniva five of us assembled in reception to await the arrival of our guide, Raikka. Barry, Freya, James, Sophie and myself had spent the night in a small cabin a couple of km down the road. There were to be two French members of the party, but they had decided to join a different group that was largely French.
Raikka was a striking character who wore a Buff pirate style. After brief introductions we went off to the equipment room to get kitted out—salopettes, thermal jacket, snow boots, warm sleeping bags and an assortment of gloves, hats and socks. After stowing away stuff we didn't need for the journey we donned our warm clothes and set out like a troop of Michellin men to the husky farm.
The noise was intense. Hundreds of excited barking dogs. Our teams were already harnessed up waiting for us. Each of us had a sled and four dogs. My two lead dogs where Desparado and Finger and my wheel dogs Kiba and Kundi—apparently Finnish for Lad and Bloke. Our own equipment went on our sleds, but all the food was carried on Raikka's larger sled pulled by a team of ten dogs. After a brief 'driving lesson' we took up position at the back of sleds. Nervous and excited I waited with my foot on the brake for Raikka to give the signal to go—pumping his fist in the air as if blowing the whistle on a steam train. The Husky farm staff untied my sled, the sled in front pulled away and I gingerly lifted the break.
Silence.
The minute they started to run the dogs fell silent. As we sped away from Hariniva on the first day of our adventure the only sound was the rush of the sled runners gliding over snow.
Almost immediately we were gliding through pine and spruce forest past trees draped in snow. Standing on the back of the sled being transported almost silently through the stunning scenery of Lapland is something that it is impossible to describe. Serene and awe inspiring. Meditative. Exhilarating. And on down hill runs, scary.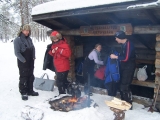 We stopped for lunch at a small hut where we roasted sausages in front of an open fire. There was a bit of excitement when we set off again when my dogs decided to go down the wrong track. It wasn't so much them going the wrong way which was exciting, as how they decided to sort the situation out—by heading straight across the deep snow to get back to the right track.
Shortly after lunch we emerged from the forest and headed out for the first time across the vast, flat expanse of a frozen lake. Quite breathtaking! It was a short afternoon. Just the other side of the lake we pulled back into the forest at Matinkämpa, which was to be our home for the night.