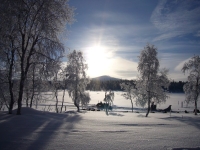 I woke early and headed outside to be greeted by a quite breathtaking scene. The delicate branches of the birch trees surrounding the cabin were decked in a thick layer of frost. As the bright morning sun came through it glinted off the lake and twinkled on the frosty trees, creating the most magical arctic scene.
It had been a bitter night. Down by the lake the dogs lay curled up in the holes in the snow that their body heat had formed, their fur covered with a thick frost. It seems incredible that they can survive sleeping outside in these temperatures.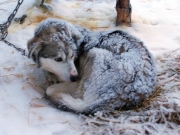 On my way back to the cabin two birds with striking red brown flashes down each side of their tails alighted on one of the birch trees in front of me. They were Kuukkelis, Siberian Jays. We'd seen a lot of references to Kuukkelis in Lapland—the restaurant in Hariniva was named Kuukkeli, as was the "department store" in Saariselkä when we were in Lapland last year—but I'd never seen one. Raikka explained that in much of middle Europe it is considered unlucky to see Kuukelis, but in Nordic countries they are considered lucky. They are often seen at places where travellers rest in the winter and the folklore is that they are the spirits of old hunters come to visit.