It was a short day, and relatively gentle with little climbing. My dog's were starting to flag and getting them up hills was proving hard work. Sophie and I had rearranged our luggage so that my team wasn't pulling so much, but it seemed to make little difference to the dogs. The lack of ballast made a big difference to how the sled handled though, and I had some hairy moments on bends on down hill runs.
It seemed colder than previous days, and several times Sophie managed to develop icicles on her eyelashes! Lunch by a frozen lake was fried salmon in potato bread. The late afternoon brought stunning views of a softly shrouded sun setting behind the trees.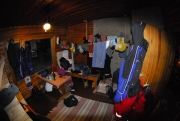 Our destination for our last night out on the trail was an old reindeer herder's hut at Juutilainen. With the wooden walls darkened by wood smoke this basic cabin had the most character of any we stayed in. We dragged water up from a stream on my sled, got the fires and sauna lit and fed the dogs as usual. The sauna here was in the main cabin, unlike everywhere else we'd been where the sauna had been in a separate building. Apparently it was a particularly good sauna that evening, but I crawled up on to one of the top bunks and fell asleep without even managing to get to the mattress!